We are excited to announce a new addition to Blue Sage Spa!
Breck Cryo LLC will be offering Cryoslimming, Cryotoning, and Cryosoothing treatments!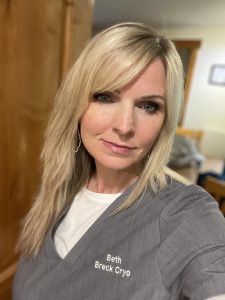 Beth Willis, originally from Boston, Massachusetts is expertly skilled in helping you reach your goals by offering Cryoskin treatments and Beaming White Teeth whitening.
What is Cryoskin?
Cryoskin is a safe, soothing, non-invasive cosmetic service that utilizes a temperature-controlled massage wand to promote a slimmer, more toned appearance.
Cryo sessions are :
Non-invasive:
Our cryotherapy technology uses science that works with your body's natural systems.
No discomfort:
Our cryotherapy treatment is localized, external, and totally painless.
No skin damage:
Cryotherapy heating and cooling effects increase oxygen supply, aiding collagen production.
No recovery time:
Our cryotherapy sessions last 20 – 34 minutes, fitting around you and your lifestyle.
CryoSlimming® uses the application of alternating heat and cold temperatures in order to stimulate and encourage the natural process of releasing fat cells through the lymphatic system. The massage wand is applied using a specialized technique in a localized area.
CryoToning® uses cold massage to smooth, lift, and firm skin, reduce the appearance of imperfections, and improve the skin's overall texture and appearance.
Cryofacials use cold temperatures to increase blood flow and oxygen, which helps to reduce the signs of aging while also providing brightening, contouring, and lifting. CryoFacials are a natural, non-invasive way to look younger and more radiant.
CryoSoothe is cold therapy that directly targets inflammation and flushes it out through the lymphatic system to help reduce pain and swelling. Similar to when you ice an injury at home by using a low-level ice bath, CryoSoothe treats pain and swelling by reducing inflammation. CryoSoothe can help heal localized pain in isolated areas of the body but can also be applied to a larger area of the body as well.
In addition, Beth offers the incredible Beaming White teeth whitening system where you can achieve dramatic whitening results with little to no tooth sensitivity, in just one hour!
To schedule your appointment for any of these services, go to Breckcryo.com or call/text 407-692-0228
To book with Beth, click the link below: