Our therapists are highly trained and skilled, passionate people who deliver excellence in all that they do for Blue Sage Spa, Breckenridge, CO. You are in good hands!
Joanna Johnson, LMT
Joanna has an Associates in Applied Science, Massage Therapy from Morrisville State College (2008), and was on the dean's list. She has been working for Blue Sage since 2009. She always has a smile on her face, accompanied by her positive attitude. Joanna loves focusing on sports, deep tissue massage, and wellness massage. She is certified in Ashiatsu Oriental Bar Therapy/Deepfeet Bar Therapy, Barefoot Basics, and Ashi-Thai. Her passion is to help others heal through massage and overall wellness.
---
Heather Kucma, LMT
Heather has been a licensed massage therapist in the State of Colorado since 2005. Heather is trained in and has studied many aspects of massage therapy from Swedish massage, deep tissue, hot stone massage, and hot stone sinus, as well as medical and sports therapy, prenatal, reflexology, body treatments to name just a few. She loves working in the field of massage and enjoys seeing her clients benefit from her personalized body work.
---
Heather McFarland, Esthetician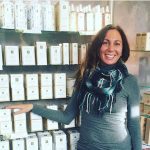 She started at Blue Sage in 2001 as an esthetician. Heather is now the head esthetician. Her passion for skin care started with her own troubles with acne. Heather has had extensive training in Eminence (an organic skin care line) and her passion for skin care carries through to her facials and gives her clients an incomparable experience. During various waxing procedures, Heather really cares about her client's comfort and ensures that all her waxing is very thorough.
---
Amy Sakes, Esthetician
Amy began her career at Blue Sage Spa in 2001 as a massage therapist and in 2005 completed her esthetic licensing. Amy is now a lead esthetician at Blue Sage and enthusiastically educates and cares for her client's skin care needs. Her clients are continually impressed by her thorough waxing and care for their individual needs. She brings her strong massage techniques into her facial practice to leave you feeling soothed and refreshed.
---
Joan Cottrell, Reiki Master
Joan has been practicing Reiki for nearly a decade.  She achieved the Master level in 2014, and has gone on to teach others the healing art of Reiki.  She has helped several other people achieve Reiki Master level through her classes.  Joan has worked with hundreds of clients over the years to reduce stress and find balance in their busy, complicated lives.
---
Anne Ivie, LMT
---
Jessica Penland, LMT, Esthetician
Jessica is a skilled Massage Therapists who also has her Esthetician license to give you the best Blue Sage Facials, Express Facials, and Replenishing Youth Facials.
---