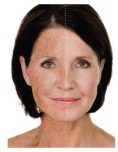 Our skin ages due to sun exposure and decreased production of collagen. Blue Sage Spa in Breckenridge, CO, uses the Ellipse laser to treat sun-damaged skin and make your skin look smoother by removing age spots, other uneven pigmentation and diffuse redness. Facial treatments are most popular, but all parts of the body can be treated. A 15 minute pre-treatment consultation is included in the 45 minute service. You could see an improvement after the first treatment, but up to 3 treatments may be required to achieve the full effect.
After treatment, you should avoid sun exposure, even if there is no sign of inflammation in the treated area. Use sun protection (minimum SPF 30  if sun exposure cannot be avoided. A few days following your treatment you may notice your skin is flecked with dark spots or appears"dirty".
Within a week you will find that your skin looks smoother, fresher and more evenly toned. You might choose to have 1-2 annual maintenance treatments in order to keep your youthful appearance.  Because of Ellipse's advanced technology there is little discomfort.
---
Photo Facial Pricing
Face | 45 Minutes | $350
Neck | 30 Minutes | $200
Décolleté | 30 Minutes | $300
Hands | 15 Minutes | $125